Resistors in Short Supply: Blame Cars
Writer:Microhm
Page View:
Date:
2017-07-13
Resistors ,the same as other passives get little attention all the time, as they are a common component rather than strategic ones. While in about past half an year, the increasing amount of electronics in cars has produced a "supply imbalance" of SMT resistors, as least in North America. It started with longer lead times for thick-film resistors, but it's spreading to thin-film components as well. According to the report, through-hole resistors are not affected. Microhm (www.microhm.com, 400 803 9333, sales@microhm.com ) provides wide range of thick film resistors, thin film resistors and through hole resistors.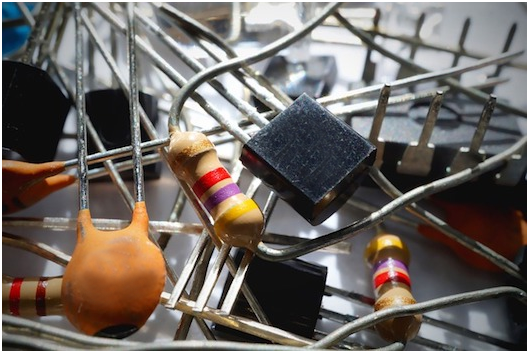 ( Passive components have long been considered a basic buy but shortages on resisters are making things complicated. )
Fortunately, not all resistor types are affected. "There does not appear to be any issue with through hole resistors such as carbon film, metal film, metal oxide or carbon composition," said Jim Bruorton, vice president, industry statistics and business analytics for the Electronic Components Industry Association (ECIA).
The ECIA has noted that lead times on resistors have consistently gotten longer.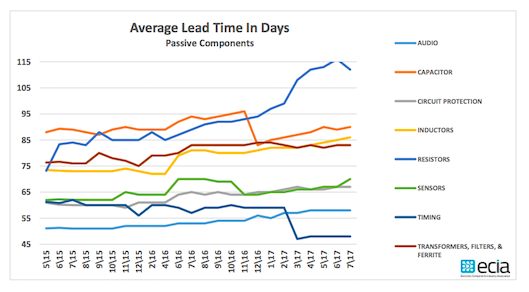 SMT resistor lead time have risen in recent weeks. Source: Electronic Components Industry Association
"The industry is seeing lead times extended by certain suppliers...mostly the Japanese suppliers and one major European supplier," "From what we are hearing from the contract manufacturers and distributors, the Taiwanese suppliers are in decent shape."
It's not a global issue currently, since many resistors are made in Taiwan and those suppliers seem to be maintaining capacity, according to the ECIA. "The bigger issue is in North America where the Japanese suppliers and the one European supplier have a greater share," Bruorton told EBN. "So, while things are tight, largely because of a lack of capacity expansion over the past few years, the current lead time issues with resistors seems to be more of an imbalance than a shortage."
The shortages became marked early in 2017, and the culprit may be the automotive industry. "It really started with a huge uptick in the automotive market segment with electronic content for each vehicle is up substantially," Hing said, adding that advance driving assistance systems are a key driver.
Automotive manufactures can try to find more qualified suppliers to overcome this shortage and prepare for the further unexpected resistor market change.